Its an open secret to many supporters of Narendra Modi & there's no need to explain Arvind Kejriwal's link with Sonia camp.
After all the guy
who swore on his children
HAD TO became Chief Minister of Delhi with Congress support, which was exposed by Dr Subramanian Swamy. The target & objective is simple. Don't give an inch of room that will raise the popularity of Modi. He had met congress mediators in Aman Hotel, which the media ignored after it was
raised by Gadkari
. In the end he ran away from his responsibilities.
He is a disciple of Sonia Gandhi's close aide Aruna Roy, exposed earlier. His role in so called anti-corruption movement was a clever ploy of Sonia Gandhi to divert the public movement to BJP side. He was Sonia's plant in Anna's camp to divert & dilute the JanLokpal Bill as well &
break the movement
. This is detailed in the Aruna Roy post. That begs the question, "Why Arvind Kejriwal talked a lot on Robert Vadra's land grabbing in late 2012."?
Robert Vadra issue was first published in March 2011 in the Economic Times. It was regarding Vadra's companies and strategic alliance with DLF Group in a diluted manner.
This was a subtle message to Sonia Gandhi by Anil Ambani's Dirty Tricks Department. Those days Anil Ambani was interrogated by CBI three times and was facing threat of being chargesheeted. Though BJP's Yashwant Sinha, Ravi Shankar Prasad and Prakash Javadekar tried to raise the issue in Parliament, these were effectively blocked by Sushama and Jaitley. And CBI was forced to provide escape route to Anil Ambani by chargesheeting his three staffers. Details of this operation will be explained later when we expose the other unknown but one of the biggest fixer in Delhi circles.
After this incident, few months later quarrel started between Priyanka Gandhi and Robert Vadra. Obviously due to Vadra's extramarital relations with one Charu Sachdeva. Here Sonia Gandhi used the services of Arvind Kejriwal to tame Vadra. Defamed Robert Vadra had no choice to succumb to powerful mother-in-law. It was an arranged game. Why Indian media which totally ignored the Economic Times expose of March 2011, jumped on Kejriwal's recycled allegations in October 2012? Had Kejriwal sought response from Sonia and Rahul on Vadra's scams? Instead of jumping & hounding Vadra, this Dalal of Sonia asked poor Prime Minister to respond. As if he was expecting a reply from him. We all know what happened to it.
The "Evergreen" PIL activist (PILtivists) Prashant Bhushan was also part of Kejriwal's press conference. In normal practice, Prashant Bhushan will go to court after leaking documents to media (mostly via Tehelka) and conducting press conferences. Then why didn't these PILtivists file anything on Robert Vadra? Its obvious that the intention was only to tame rogue son-in-law on behalf of mother-in-law. A typical mafia style operation that's in the blood of Sonia.
Later this fraud fielded another fraud retired IAS officer Yudhvir Khayalia from Hissar Lok Sabha constituency. Who is this gentleman? This is officer who gave clean chit to Robert Vadra, reversed all the decisions of predecessor Ashok Khemka IAS, who first fixed Vadra. This pretty much buried the evidence & case against the "damaad".
This fraud, Arvind Kejriwal, is the darling of ridicule in the Social Media. At the rate in which he's collecting hashtags, he might even create a new Guinness Record for it. Be it "Bagoda Kejri, Shri420, MufflerMafia" etc. the list is growing.
The Arvind Kejriwal – Media nexus need not be detailed as its pretty much in the open. Be it NDTV, AAJTAK, CNNIBN etc. he has been propped very well with nothing to show in achievements
Now lets take a look at how this fraud even came to the limelight. Arvind, after quitting Tata Steel, spent some time in Assam & other NE regions when the strife was as its peak. No one knows who he worked or trained with in these parts during these months. Reams can be written about his service in the Income Tax Dept. where he went of extended leave towards the end of his career claiming study leave etc. He in fact owed back
taxes
. He tried to fight it in the
media
& tried to wiggle out of it, but ended up coughing 9 lakhs & said "
Kejriwal paid the fine saying "Just because I am paying doesn't mean I accept my guilt.
I don't even know what crime I have committed
."
Does he think the people of India are fools? Has anyone wondered how this was
paid
? In as much, the government accepted his resignation from services 2006, in December 2012? Has anyone ever come across such a ridiculous case before?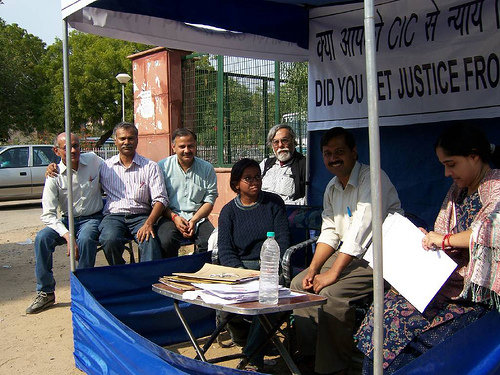 The list of questions for this fraud & his activities are endless. How can you trust someone like Arvind who started the "andolan" against corruption by
bribing a police officer Rs 2000 for illegaly putting up a Kiosk
to protest in front of CIC accompanied by his naxal buddy Manish Sisodia. The IAC central HQ
sternly warned Arvind Kejriwal to close his illegal "tout shop", but he threw up his hands pleading he was then unemployed and his family would starve.
Be it the
funds fraud of IAC through PCRF
, the insitigation of Bajaj auto plant union strife which led to Rahul Bajaj supporting him, be it the Somnath Bharathi episode, the list of endless. Even though not many people take Digvijaya Singh seriously, but one must appreciate that
he posed valid questions for him
, which remain unanswered as of date. Similarly he is yet to answer the questions raised by the MHA in regards to the foreign funds raised by AAP during the New Delhi elections. Instead he & his fellow PILtivist filed a case against BJP & Congress for the same reason.
Pages after pages have been written about this fraud. We will leave you with this one link which
you can dive deeper into
.
There are many politicians who we all know to be great fraudsters. But this one is special. He's the made up media darling & is bound to cause more nautanki in the days to come.
But for now the objective is to expose him as an Agent of Sonia Gandi, who is out to ensure one thing "
At any cost block Narendra Modi becoming Prime Minister
and split the votes going to BJP".
Its hard to find times where he has raised any questions to Sonia Gandhi to date. His only target has been Narendra Modi & the BJP. This is more than obvious the "nautanki" he's playing by inking & egging himself to contest in Varanasi against Modi. He is one of the cogs in the wheel to stop Modi.
We will leave you with these 2 gem of videos by Rajat Sharma, who exposed this dangerous fraudster
We will also leave you with one other small challenge. Please try to find if you can spot an article on Arvind Kejriwal directly criticizing Arun Jaitley.